My Birkenstocks arrived on Thursday. I had ordered Milano sandals online, and yesterday afternoon I decided to break them in. I decided to walk down to Watertown Square and back. These were my first pair of Birkenstocks ever. I had tried on a pair at a store recently, with those weird little nylon footie things that the shoe store requires you to wear when trying on shoes with no socks on. Doing a brief jaunt around the stack of shoes didn't prepare me for the pain I would soon suffer late last night.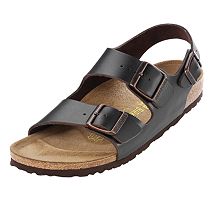 The trek to Watertown Square was OK. It took me a while to get used to the fit: It's basically a flat sole with a cork top. I doubt that anyone with flat feet would be able to wear something like this, as the cork curves up where the arch of your feet are, which is an unpleasant feeling: Not until now has the arch of my foot needed to press against anything. The website where I bought it says it has a shock-absorbing EVA sole. I'm not sure what EVA stands for (as I was sold on the shock-absorbing part), but it probably means the sole is an Extra Vigilant Annoyance. Every time I took a step it felt like I was bouncing, with the reverberations going up my legs.
I walked down to the New York Diner, where I've had many late-night breakfasts, and tightened up the straps. The walk back home was better, I thought, because in that direction the ground has a slight incline. So, while walking downhill to the square I felt as if my toes were not touching the cork surface at all, going on an incline had the opposite effect. I could feel my toes push into the cork with each step, and that made it more satisfying. The bouncing and reverberations were gone. I had heard that the cork eventually molds itself to the feet it's supporting, so all the griping aside, I had high hopes for my new sandals.
I found that walk to be a good exercise, so I treated myself to a fudge popsicle when I got home.
Later that night, around 11:30pm, I had to get out of the house to clear my head. I actually have been doing a lot of walking lately. Not every day, not marathon distances, but healthy doses nonetheless. And it's a lot for me, as I'm not the athletic type. Sometimes I clear my head, sometimes not. Last night's was a wash.
Search Amazon.com for "birkenstock"
In the past, I walked to Watertown Square a bunch of times. A week after I broke up (on my birthday) with an ex last October, I walked six miles, basically walking to the Cambridge border then hugging the Watertown/Belmont line until hooking around the Square and returning home. When I saw my family earlier this month, I decided to step away and take a walk. An hour-and-a-half into it, after finally turning around, a worried sister called, wondering where I was and if I was all right. I was fine; when I got back three hours after I left, I learned I had done eight miles. Last month I found out about bike paths around Fresh Pond in Cambridge. Early morning on Memorial Day, I walked there and did three loops around the pond, and then back home. That trek, with an hour resting with a book, took four hours and eight miles total. Fresh Pond seems to have become my favorite place, as I've gone there to walk more than a handful of times since.
I admit that in all of those walks I had to clear my head from "residual relationship thoughts" (or RRT). And last night was no different. I decided not to go to Fresh Pond yet another time, but to take a different route. I decided to walk to Harvard Square.
It was late, and there were hardly any life signs at all in Watertown. I passed by a rabbit, probably a wild one, on the intersection of Fresh Pond Parkway and Mt. Auburn Street. Finally, 45 minutes after I started, I arrived at Harvard Square, which was teeming with life: dressed-up preppie college kids, one or two homeless people and a few drunks. Here I was with my water bottle, shorts, a slightly sweaty undershirt and my brand new Birkenstocks. At least I wasn't wearing my Sketchers and white quarter crews like I had done before. I was surprised to find that many restaurants were open; it goes to show that I haven't really gone out much for other than tango in the near-year that I've lived around here.
I continued up Mt. Auburn and made my way to Arrow Street, via Bow Street. At Zero Arrow Theatre, where Arrow Street intersects with Mass. Ave., and where last year's Boston Tango Festival was held, I circled around the Square and then took a shortcut back home via Brattle Street. (Looking at a map now, I realize that is actually quite a longer way to get back home.)
At that point my Birkenstocks were killing me. The support under my arches were pressing into my feet. The straps dug into my skin. Pepples and sand left on the sidewalks from last winter had flown into the crevices, poking into the ball of my foot. I finally stopped to take off one sandal to brush away the debris, noticed a tiny new blister, and I moved on.
I saw another rabbit on the intersection with Sparks Street, and wondered if it was the same one as before. I crossed the Craigie Street turn and stopped to look at it. The brown bunny had stopped, too, and it appeared to be evaluating me, too. Then it turned, waited for traffic to pass by, and dotted across Brattle into a wooded area on the other side. Life goes on.
I couldn't help but realize, even as I was walking at 1am this morning, that it had become a symbolic journey. Although it was an ex who suggested getting Birkenstocks (it will help with posture, etc.), it didn't matter, as I was enjoying the fact I was wearing sandals again. For whatever reason, I hadn't worn sandals since I was a kid. And despite that, apparently, wearing Birkenstocks will be painful for a while as I get used to the new feelings, I just need to plod through and get used to it. As much as the feet felt the brunt of the new sensations, most of the pain was in my head anyway. I can move past that. A new day is coming.
As I was writing the end of this, Paolo Nutini started playing in my mind.
Hey, I put some new shoes on,
And suddenly everything is right,
…
And I made my way to the kitchen,
But I had to stop from the shock of what I found,
A room full of all of my friends dancing round and round,
And I thought hello new shoes,
Bye bye them blues.
Life will be fine, eventually. Just gotta walk it off, so to speak. Stone to stone, I'll take it on.